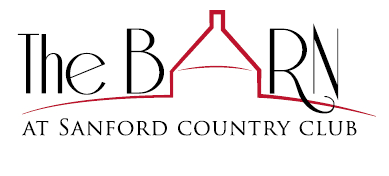 Book Your Next Event at The Barn
Sanford Country Club, a semi-private club, is an affordable golf getaway and a charming event venue for members, daily guests and those vacationing along the New Hampshire and Maine seacoast. Located just a short drive from Kennebunkport, Wells and Portsmouth, Sanford is the ideal location for your special event.
Its main event venue, The Barn, was renovated in spring 2015 and has since become a premier venue in Maine. The rustic charm of The Barn is the perfect setting for special events in your life. Whether it is a wedding, a special anniversary celebration, a family reunion, dinner or business meeting, we have the facilities to make it a memorable occasion.
Our mission is simple – to exceed your expectations and produce a sensational event for you and your guests to cherish and remember forever.
If you are interested in making The Barn at Sanford Country Club the venue for your next event, please contact our sales department at 207-459-4351 or email events@sanfordcountryclub.com .